Clint
* better viewed in landscape mode
COD upto

₹

62,500
Free delivery & assembly

₹

10,000
Over purchase of
5 years warranty
The Clint managerial desk is a functional solution for your management seating. The desk is retrofitted with a matching pedestal and runner to provide for useful filing and storage solutions. Made from engineered wood, the desk comes in a classic walnut finish. The leatherette panels on the front facade add a nice contrast to the desk. Provided with drawers and filing cabinets you can now easily store all your documents to keep them handy at your beck and call. Shop the Clint office series comprising of desks, storage units, file cabinets to create smart office spaces.
Engineered Wood - Particle Board
(L)1500mm X (D)6000mm X (H)750mm
Reviews
Read what people are saying.
Find it in a store
Recently viewed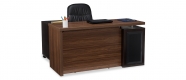 Quickview
Clint
Managerial Desk (L)1500mm X (D)6000mm X (H)750mm
Get to know the material we use in our furniture. We source and curate our materials from across the globe to provide you with world class furniture that befits your space.